GASGAS LAUNCH NEW GENERATION 2023 TRIAL BIKES

NEW LOOK, IMPROVED RELIABILITY, BETTER RIDEABILITY!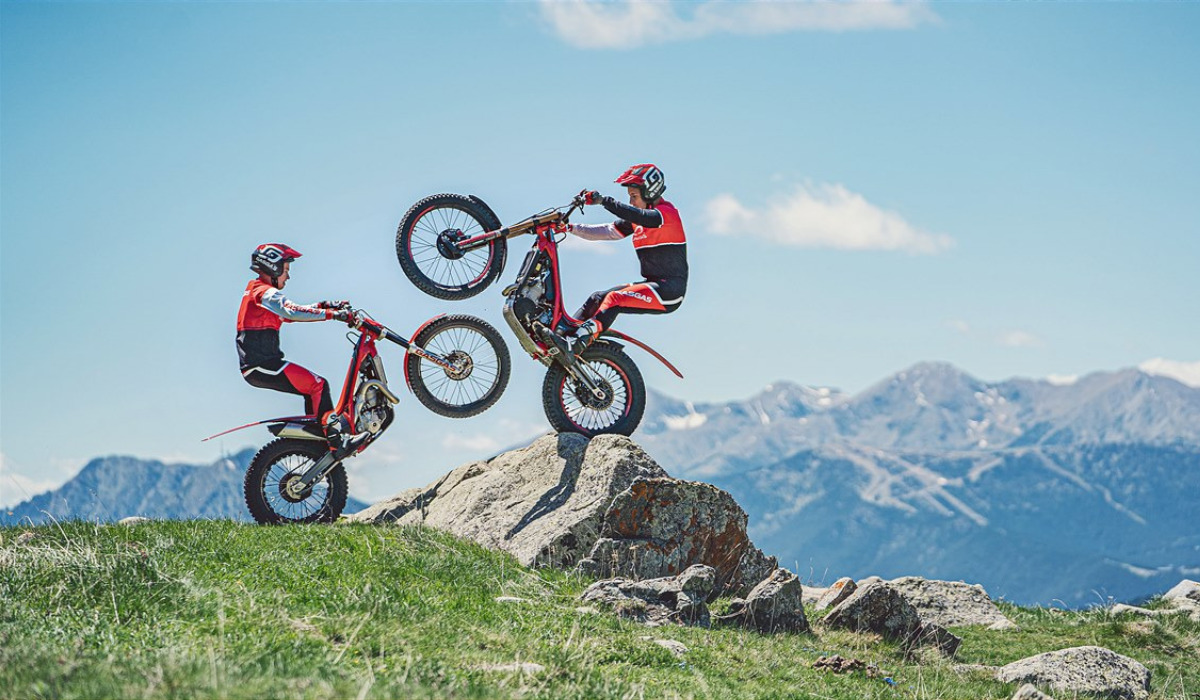 The time has come. After years of extensive development, the latest, and very best, generation of GASGAS trial bikes are now rolling off the production line in Terrassa, Spain. All six 2023 models – two TXT GP and four TXT RACING – set new standards for trial bike performance, guaranteeing a super-fun experience for riders of all abilities. Find yours at a GASGAS dealer near you!
New generation GASGAS trial bikes revealed in Terrassa, Spain
Long list of improvements across both TXT RACING and TXT GP ranges
2023 GASGAS trial models deliver improved reliability and rideability
Instantly recognizable, all 2023 GASGAS trial bikes are bold, modern, and more red than ever before. Looking the absolute business, beneath the brand-new bodywork is where the real developments have been made – to the red powder-coated frame. Featuring a long list of improvements, the complete TXT RACING and TXT GP line-ups both perform and handle better than ever. In addition to the striking new look and the improved handling, reliability of the super compact, high-performance 2-stroke motors has also been boosted. The end result, stronger more robust bikes that deliver super-fun, proven performance!
Technical Highlights – TXT RACING
New lightweight steel frame made from cast and tubular parts
New aluminum front hangers create strong connection between steering head and a larger skid plate
New bodywork with in-mold graphics and modern styling
New, stronger clutch cover improves durability
New footrest design for improved control
New exhaust and silencer with super-durable end cap
New, redesigned kick starter for improved starting
New cylinder head with interchangeable inserts for customized power
New, shorter and adjustable TECH forks offer 174.5mm of travel
NEKEN handlebars and RENTHAL grips
TECH shock allows for a personalized rebound and spring preload set up
BRAKTEC hydraulic clutch and brakes
Strong and lightweight wheels with CNC machined hubs
Michelin Trial X11 tires front and rear for maximum traction
Patented 4/6-speed transmission
Technical Highlights – TXT GP
New lightweight steel frame made from cast and tubular parts
Newly developed, black anodized aluminum front hangers create strong connection between steering head and a larger skid plate
New bodywork with in-mold graphics styled in line with GASGAS Factory Racing
New cylinder head with interchangeable inserts for customised power
New, redesigned kick starter for improved starting
New NEKEN handlebars and RENTHAL grips
New GASGAS Factory Racing inspired bar pad
TECH front fork with 174.5mm of travel and a KASHIMA coating for enhanced sensitivity
TECH TJ3 shock absorber is fully adjustable for riders to create a personalized set-up
CNC-machined aluminum triple clamps anodized in black
BRAKTEC hydraulic clutch and brakes
Strong and lightweight wheels with CNC machined hubs and a lightweight rear rim
Michelin Trial X11 tires front and rear for maximum traction
Patented 4/6-speed transmission
FIM approved rear brake disk
Thanks to serious investment made by PIERER Mobility AG, added to GASGAS' longstanding passion and commitment to trial sport, we've created our best trial bikes ever. This successful alliance between Europe's #1 bike building company and GASGAS, the trial specialists, has created a strengthened R&D team, a re-energized GASGAS Factory Racing trial team, and a clearer, more detailed testing process, which directly led to the creation of an all-new generation of GASGAS trial bikes.
Our goal heading into 2023 was simple – to build the best performing GASGAS trial bikes ever made! Besides retaining the finest, competition-focused aftermarket components, the TXT RACING and TXT GP ranges are pretty much all-new. Everything on the outgoing generation was thoroughly analyzed then refined or replaced with better, stronger, or lighter parts. The 2023 GASGAS trial line-up more than exceeds what we set out to do.
Developed over the last two years, the latest generation of GASGAS TXT RACING trial bikes deliver unrivaled performance with looks to match. Ensuring serious rideability has always been at the top of the list when building our much-loved TXT RACING range, which is now complete with even more quality components to lift the all-important fun-factor to impressive new levels for 2023. The four proven capacities – 300cc, 280cc, 250cc, and 125cc – are retained giving riders of all ages and abilities the chance to experience something very special.
The GP in TXT GP standing for Grand Prix, you know this model range means business. Capable of competing at the highest level straight from the showroom floor, the TXT GP is available in two classic displacement sizes – 300cc and 250cc. Designed specifically for the more serious riders out there, these are the very best 2-stroke trial bikes that money can buy.
The TXT RACING models will land in dealerships worldwide from late August 2022 with the TXT GP trial bikes arriving shortly after.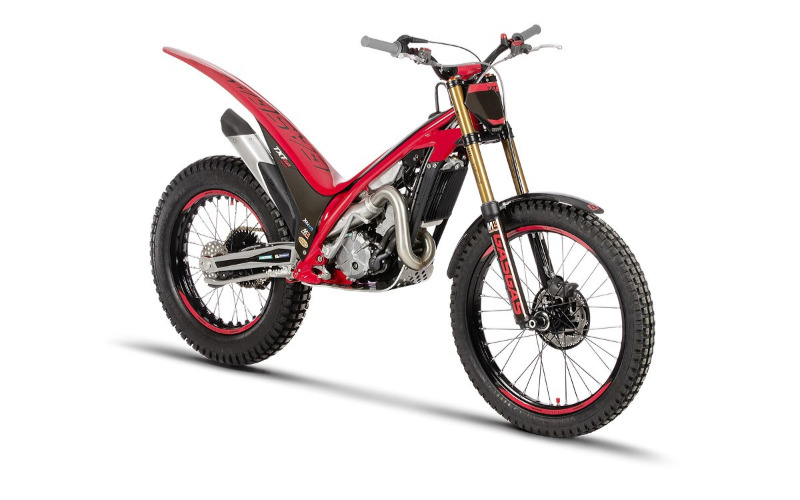 TXT GP 2023

The TXT GP range consists of the TXT GP 250 and 300.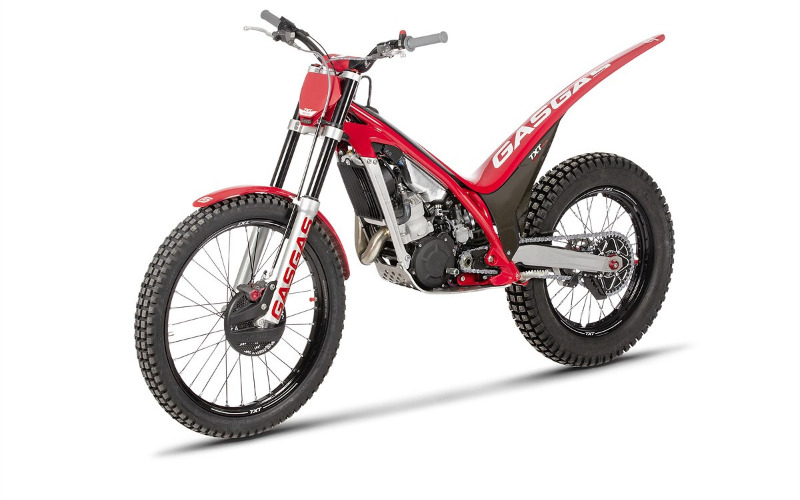 TXT RACING 2023

The TXT Racing range consists of the TXT Racing 125, 250, 280 and 300.
NEW FS 450 SUPERMOTO

FULLY REDESIGNED FS 450 SUPERMOTO LAUNCHES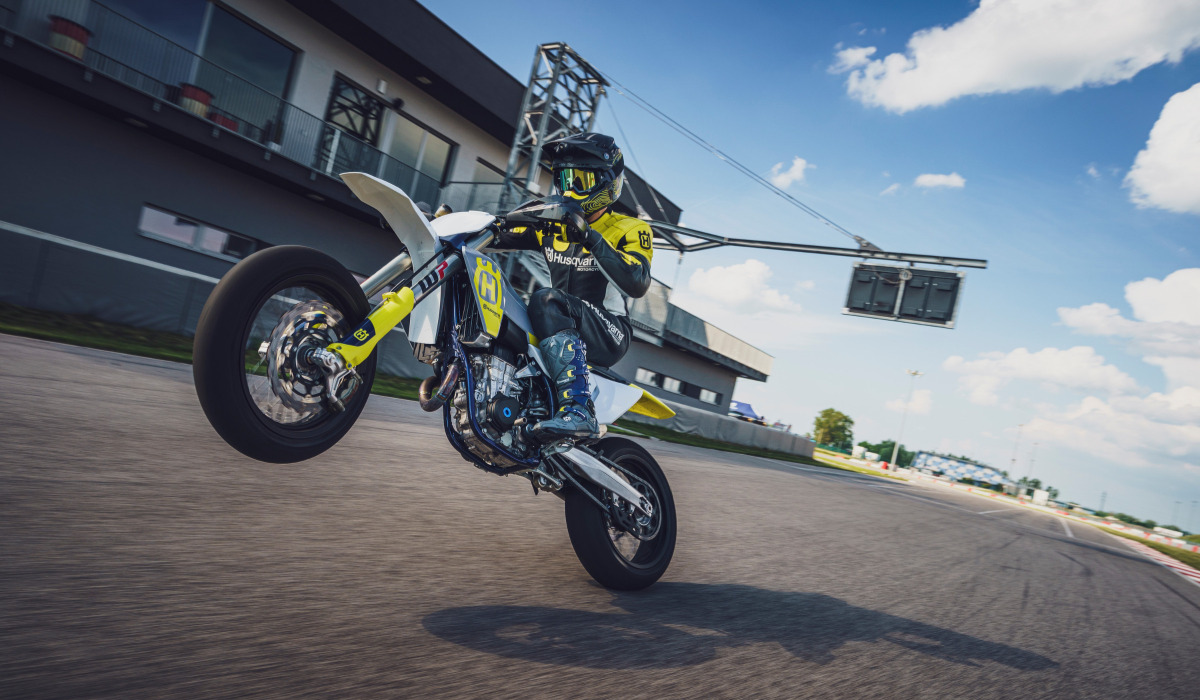 All-new for 2023, Husqvarna Motorcycles' FS 450 continues its legacy as a premium supermoto racer. Designed and developed to offer outstanding supermoto performance, the FS 450 is expertly crafted with the latest technology and competition-focused components to create a highly capable circuit racing machine. Finished with new bodywork and improved ergonomics for 2023, the FS 450 is complete with striking white and grey graphics for a distinctive look.
Powered by a new 450cc SOHC 4-stroke engine, the performance characteristics of the FS 450 can be fine-tuned using the updated map select switch mounted on the ProTaper handlebars. This sophisticated device allows for full customisation of the machine as it controls the activation of launch control, traction control, and the new Quickshifter, which ensures seamless upshifts.
A new hydro-formed frame enhances rider feedback with the new polyamide-reinforced aluminium subframe playing a vital role in aiding handling and ensuring comfort. Together with the latest WP suspension and a repositioned engine that improves mass centralisation, the FS 450 delivers an exceptional on-track experience for all riders.
Assembled skilfully with quality, supermoto-specific hardware including Alpina wheels, a Suter anti-hopping clutch, and high performance Brembo brakes, the FS 450 is undoubtedly built for competition.
With all these performance-focused technical advancements, the FS 450 unquestionably remains as the most powerful, best handling, and most complete supermoto machine on the market today.
2023 Technical Highlights
New bodywork with specifically tailored ergonomics for easier movement on the motorcycle
New hydro-formed chromium molybdenum frame significantly improves anti-squat behaviour
New SOHC engine provides class-leading performance and low weight
New Quickshift sensor ensures seamless up-shifting
High-performance Brembo hydraulic clutch system
New aluminium-polyamide hybrid subframe construction provides specifically calculated rigidity and advanced durability
New WP XACT 48 mm front forks with AER technology offer more progressive end-of-stroke damping
New WP XACT rear shock design with CFD-optimised main piston and tool-free adjusters
New multifunctional map switch, which also activates the Quickshifter, traction- and launch control
Premium-quality ProTaper handlebars
Electric starter powered by a lightweight Li-Ion 2.0 Ah battery
To further customise the FS 450, a concise selection of high-quality Technical Accessories is available. Each component on offer is designed to enhance on-track performance, reduce weight, or add durability to this exceptional supermoto machine. For enhanced rider safety and unrestricted performance, a premium collection of supermoto-specific Functional Apparel combines innovative technical features for improved comfort, protection, and style.
The 2023 FS 450 is now available is limited supply. For details on availability, please contact us.
THE NEW KTM 300 EXC ERZBERGRODEO

CHRIS BIRCH RACES KAILUB RUSSELL TO THE TOP OF THE IRON GIANT ON THE NEW SPECIAL EDITION ENDURO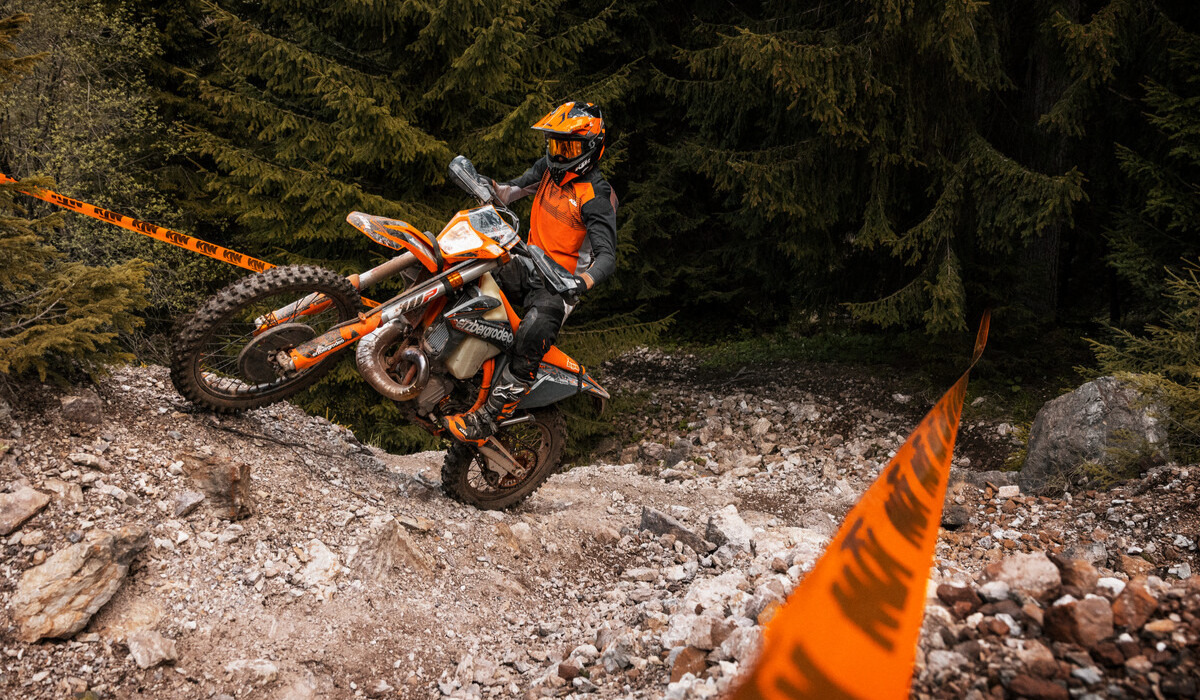 Solid preparation for a white-knuckled event like the ERZBERGRODEO is often half the battle. It helps by saving crucial time in the paddock and seconds on the course. A racer like Russell knows all about having the most honed and competitive package to fly through speedy sections and stare at some of the gnarliest obstacles while Birch demands nothing less than the finest technical set-up and performance to bounce through the trickiest 'extreme' zones. The 2023 KTM 300 EXC ERZBERGRODEO has been crafted around the acute attributes of both stars and features race-developed and premium parts. The 2023 model does full justice to the demands and infamy of the meeting through the latest specs.
Performance edge comes through the CNC-machined triple clamps, factory wheels with anodized hubs, a supersprox stealth rear sprocket, a map selector switch and the solid rear brake disc. Don't forget the competition-specific Metzler 6 Days Extreme tires. Going faster or better also means a heightened degree of risk or punishment to the equipment. This is where the 2023 KTM 300 EXC ERZBERGRODEO also raises the bar with a capable handguard set, a radiator protector, chain guard bracket and clutch protector, front and rear brake guards and a rear brake safety wire.
Russell and Birch know that distinction and style cannot be underestimated: look good, feel good. The 2023 KTM 300 EXC ERZBERGRODEO is graced with a racing orange frame, a factory Selle Della Valle orange seat and lightweight skid plate and the Erzbergrodeo graphics set that subtly mixes grey with the distinctive KTM hue. The livery also carries some of the markers and checkpoints from the Erzbergrodeo such as the 'Elevator, 'Machine' and 'Carl's Diner'.
The 2023 KTM 300 EXC ERZBERGRODEO is a fine instrument of enduro excellence. At the Erzbergrodeo – or any race even for that matter – it is primed for qualification, attacking and forging optimum results.
To aspire to be the best, and ride with the best, you need the best.
2023 KTM 300 EXC ERZBERGRODEO HIGHLIGHTS
// Special Erzbergrodeo graphics
// Frame finishing coated in racing orange
// Factory wheels with anodized hubs
// METZELER 6 DAYS EXTREME soft tire set-up
// Closed, heavy-duty handguards
// Radiator fan & radiator protectors
// CNC-machined triple clamps
// Factory orange seat & lightweight skid plate
// Chain guide bracket protection
// Supersprox stealth rear sprocket
// Clutch slave cylinder protection & orange oil plug
// Front & rear pull straps
// Front brake disc guard
// Solid rear disc & disc guard
// Rear brake safety wire
// Map selector switch ?
The 2023 KTM 300 EXC ERZBERGRODEO is available to order now but quantities are limited.
2023 KTM 450 SMR

TAKE THE LONG SLIDE TO SUPERIORITY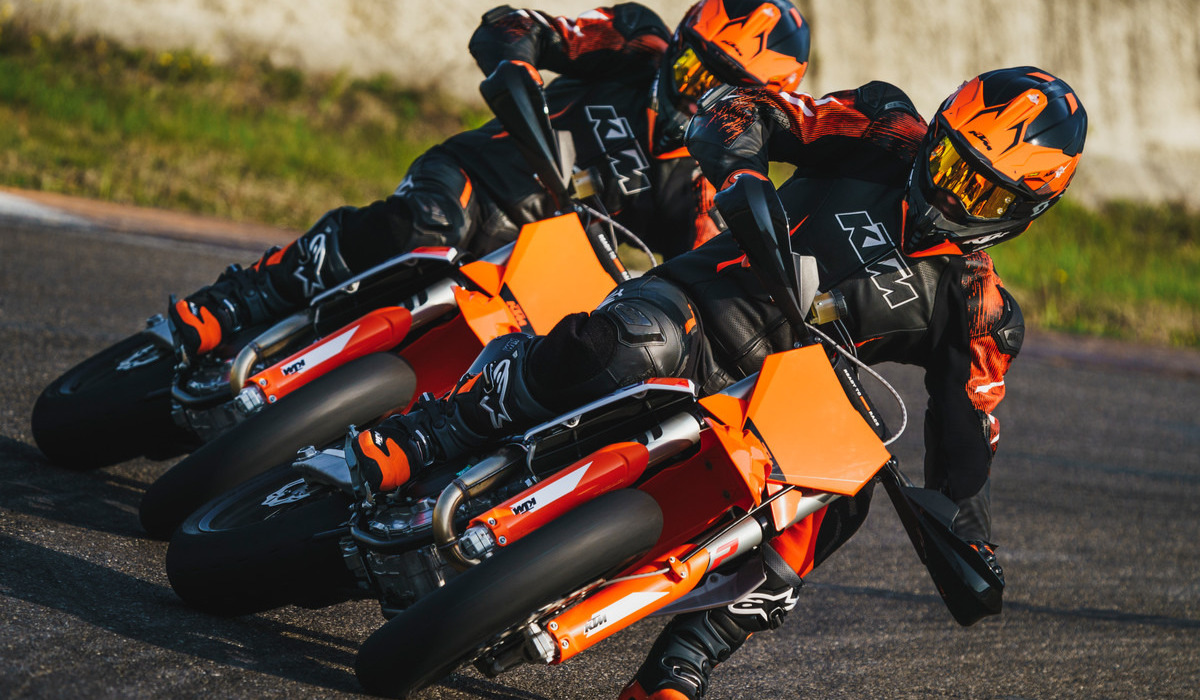 In a discipline where tenths of a second and tens of centimetres make the difference in a lap-time or an overtaking move, then the precision and the sheer razor-edged intent behind the 2023 KTM 450 SMR is exactly what any Supermoto fan or racer needs.
The innovations start with the refined hydro-formed, laser-cut and robot-welded frame. Front-end focus and sensitivity and rear-end stability defines everything that is fast and strong on the Supermoto circuit. KTM has altered longitudinal and torsional flex (also through frame wall thickness) to make sure that feedback is acute and on-point as any rider – from novice to world championship-level racer – will demand. A revised shock mount enhances energy absorption and straight-line stability for 2023. The 'anti squat' concept translates to better acceleration and corner exit and is also achieved courtesy of the repositioning of rotational masses and the new shock itself. The 'inward' located footrests augment the feeling that the 2023 KTM 450 SMR can be gripped, carried and pushed however far the rider wants to go. The polyamide reinforced aluminum 2-piece subframe is another ingredient for the overall improved handling effect – with the bonus of superb strength. The flow of contact with the track surface comes spilling through the high-grade aluminum CNC-machined triple clamps, which are newly applied with increased grip surface for less handlebar 'twist'.
Sliding into turns has never felt easier but the added reassurance comes from expert degree of flex pouring forth from the diecast aluminum swingarm, new 22mm rear axle and the latest generation of WP XACT Suspension. AER 48mm forks have a split-damping function and simple tool-less adjusters among other advantages. The same practicality graces from the new shorter, lighter (but still with the same amount of travel) WP XACT rear shock, which is fully optimized with several significant upgrades to enable advanced damping characteristics. The WP XACT shock is the most progressive and capable system seen on a KTM Supermoto machine yet.
Calculated millimetres on corner entry are made possible with high-powered 4-piston Brembo brakes with a 310mm front disc. A 220mm disc and single piston caliper will bring the rear end around nicely while it's feted by the SUTER anti-hopping clutch and Brembo hydraulics that will let riders drift all the way 'til they shift.
Once the Metzeler Racetec SM K1 tyres (with a large usage window and rapid warm-up times) have been abused into the apex, the unmistakable firepower of the 2023 KTM 450 SMR gets everything firing forward. The new SOHC engine is designed with mass centralisation as the goal and blasts out 63 hp – with the motor weighing just under 27 kg, almost half a kilo less than the previous edition. The engine itself has been tilted back and the sprocket dropped by 3mm with new cylinder internals and crankshaft optimisation as other markers of the 2023 set-up. PANKL Racing Systems have supplied a redesigned five-speed gearbox with a new transmission ratio. Another feature is the fresh Quickshift sensor on the shift drum for clutchless upshifts (which can also be disabled through the handlebar switch). The Keihin Engine Management System administers the traction control, launch control and quickshift actions and the ability to flick between two customisable engine maps.
Throwing the whole package into place on-track is now simpler with new ergonomics and the sculpted rider 'triangle' that permits even better contact points between motorcycle and user. A recessed grip 'pocket' under the seat is another example of the fine-tuned practicality. There won't be better or harder-looking bike on the track than the 2023 KTM 450 SMR. The 1990s-derived splash of purple adds to the READY TO RACE graphic vibe together with the flat orange seat and white tail.
A very limited number of the 2023 KTM 450 SMR will be available from June 2022.
2023 KTM 450 SMR technical highlights
// New anti-squat frame concept for unbeatable agility, sensitivity and stability
// Lighter and more durable 63 hp engine package for peerless power-to-weight ratio
// New generation advanced and easy-adjustable WP Suspension
// Searing braking components from Brembo
// Performance-led parts from footpegs, compact exhaust system, electronics, wheels and tyres
// Improved ergonomics to accentuate agility and centralisation: better lap-times
// Unmistakable race-orientated graphics and one of KTM's best colour schemes yet for the Supermoto market
HUSQVARNA MOTORCYCLES UNVEILS ITS NEW GENERATION OF MOTOCROSS MACHINERY
DESIGNED FROM THE GROUND UP WITH INNOVATIVE ENGINEERING TECHNIQUES, THE FC AND TC MOTOCROSS MODELS CONTINUE TO OUTPERFORM THE COMPETITION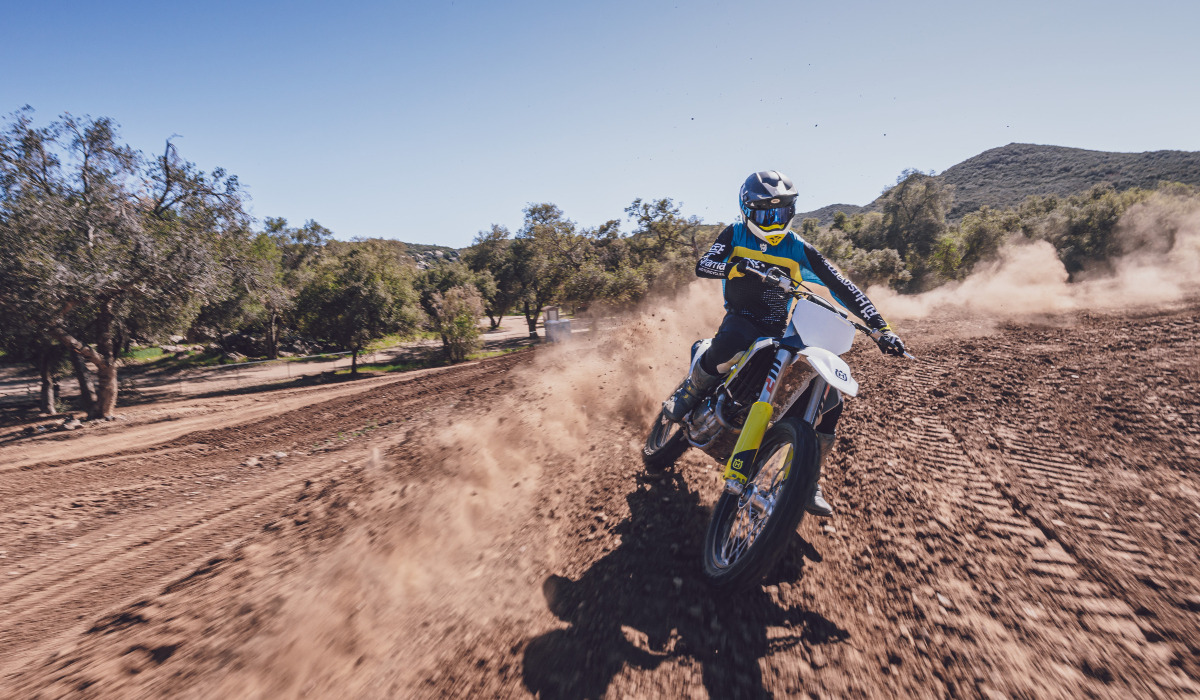 Continuing to deliver true motocross performance, the all-new 2023 Husqvarna Motorcycles' TC and FC models further enhance the on-track riding experiences of all riders. Highly capable of competing at the highest levels of racing as standard, technical advancements across the five-motorcycle-strong range include new engines, suspension, frames, swingarms, and bodywork. Each of the 2-stroke and 4-stroke machines have received tailored developments for maximum performance.
Strengthening their positions as the leading 2-strokes on the market, the TC 125 and TC 250 are now equipped with Electronic Fuel Injection (EFI) and E-Start as standard. The throttle body fuel injection system ensures class-leading power and rideability, as well as enhancing reliability and lowering overall running costs. Both machines are now easily started with the simple press of a button. These significant enhancements underline the continued evolution of these popular models, which set the benchmark for premium motocross machinery in the highly competitive 2-stroke sector.
The 2023 FC 250 and FC 350 are powered by all-new 4-stroke engines that are designed to be faster, lighter, and play a vital role in enhancing overall handling. Utilising the latest technology and electronic rider aids, these models remain at the forefront of motocross machinery development alongside the FC 450, which features a revised and repositioned engine to improve mass centralisation.
All machines in the motocross line-up are engineered to outperform the competition. Expertly assembled with high quality components for enhanced performance, reliability, and customisation, the FC and TC models are equipped with WP suspension for unsurpassed comfort and straight-line stability. The new WP XACT 48 mm front forks offer more progressive end-of-stroke damping thanks to an improved hydrostop. In addition, the WP XACT rear shock is designed with a refined main piston for improved comfort and features tool-free adjusters for fast setting changes. Complete with ProTaper handlebars, a Brembo clutch, and Dunlop tyres, each model is equipped with a map select switch for selectable engine maps and a personalised riding experience.
What is new for 2023:
New bodywork with specifically tailored ergonomics for easier movement on the motorcycle
New hydro-formed chromium-molybdenum frames significantly improve anti-squat behaviour
New topology-optimised die-cast aluminium swingarm provides optimal rigidity and low weight
New throttle body fuel injection on 2-stroke engines ensures class-leading power and rideability
New FC 250 and FC 350 DOHC engines deliver class-leading torque and peak power
New Quickshift sensor ensures seamless upshifting on all 4-stroke models
New electric start on both 2-stroke models
New aluminium-polyamide hybrid subframe construction provides specifically calculated rigidity and advanced durability
New WP XACT 48 mm front forks with AER technology offer more progressive end-of-stroke damping
New WP XACT rear shock design with CFD-optimised main piston and tool-free adjusters
New multifunctional Map Select Switch also activates the Quickshifter, Traction, and Launch Control
High-performance Brembo hydraulic clutch system
Premium-quality ProTaper handlebars
Electric start powered by a lightweight Li-Ion 2.0 Ah battery
A competition-focused range of Technical Accessories and Apparel accompanies the release of all 2023 TC and FC machines. Included within the collection of high-quality components designed to improve performance and reliability are wheels, triple clamps, an exhaust, as well as many protective parts. For comfort, safety, and style, the Apparel Collection ensures riders of all abilities are fully equipped for every ride. Offering a full head-to-toe range that includes protective equipment and riding gear for all racers, all designs truly compliment Husqvarna Motorcycles' 2023 TC and FC models.
TOTAL TERRAIN DOMINATION

INTRODUCING THE 2023 KTM ENDURO RANGE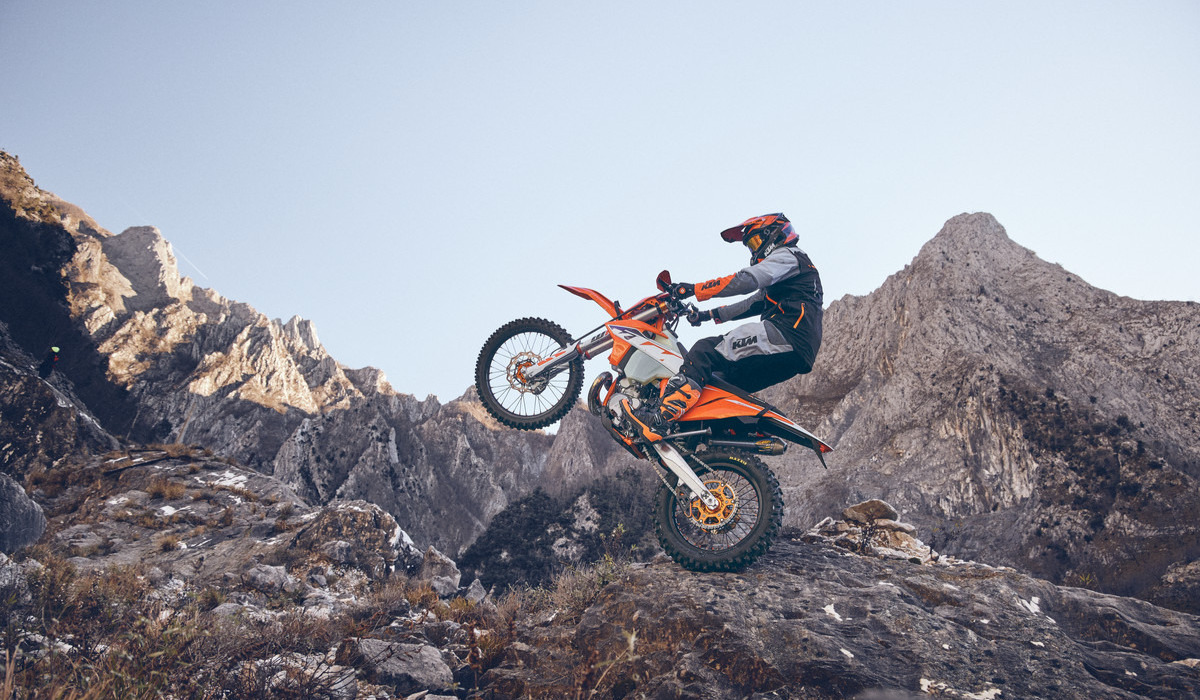 KTM has dominated Enduro competition for a number of decades, with the newest iteration of the 2023 KTM EXC and EXC-F models set to continue the trend. Boasting an updated design, orange-coated Chromoly steel frame, race-proven WP XPLOR suspension at each end, and real READY TO RACE credentials, the 2023 KTM Enduro range is the one to beat.
Offering the most extensive READY TO RACE competition Enduro lineup on the market, starting with the enduro underdog KTM 150 EXC 2-Stroke and topping out with the class-leading power KTM 500 EXC-F 4-Stroke, the 2023 KTM Enduro range caters to all riders and terrains.
New for 2023, an all-new graphic design and white, purple and orange colour scheme come together into a seamlessly blended palette. This colour scheme was specifically chosen by the designers to pay homage to the early '90s enduro models, setting the 2023 KTM Enduro range apart from anything else on the trails.
The looks are further emphasised with the use of a race-inspired orange-coated Chromoly steel frame. Not only does this echo the styling on full-factory race machines but provides the perfect backbone to set off the 2023 graphics pack.
In terms of engines, the 2-Stroke model range once again takes its place and is the leader in the paddock, making use of KTM's patented Transfer Port Injection (TPI) technology. Not only has this ensured fewer emissions and fuel consumption but provides smooth and strong power delivery from the bottom right through to the top end of the rev-range.
The 4-Stroke model range provides the most concise offering of models, starting with the KTM 250 EXC-F and KTM 350 EXC-F and topping out with the powerhouses KTM 450 EXC-F and KTM 500 EXC-F. All models in the 4-Stroke range benefit from class-winning engines, engineered to deliver massive torque down low with class-leading power delivery at higher RPMs.
These are flanked by the ever-popular KTM EXC SIX DAYS range, which offers a special tribute to the upcoming 2022 FIM International Six Days Enduro in France, combining the very latest in innovation with an extensive list of race-derived parts as standard.
Every motorcycle in the range gets fully adjustable WP XPLOR suspension as standard, with the advantage of a Progressive Damping System (PDS) on the rear. The PDS layout – a staple across KTM EXC and EXC-F models, offers lower maintenance due to fewer moving parts, but provides more ground clearance, with less chance of hooking up when climbing logs or rocks.
As always, and thanks to KTM's global network of dealers, the availability of support and parts needed to compete at the highest level are easily accessible, with the added availability of dedicated KTM PowerWear and KTM PowerParts designed to allow for the highest levels of performance, protection, and mobility for all offroad riders and racers.
The 2023 KTM Enduro range is derived from years at the top level of offroad racing and brings together a dynamic combination of race-bred performance, ergonomics and technology ready to tackle any terrain.
NOTHING HAS CHANGED

GET SERIOUS WITH THE 2023 KTM SX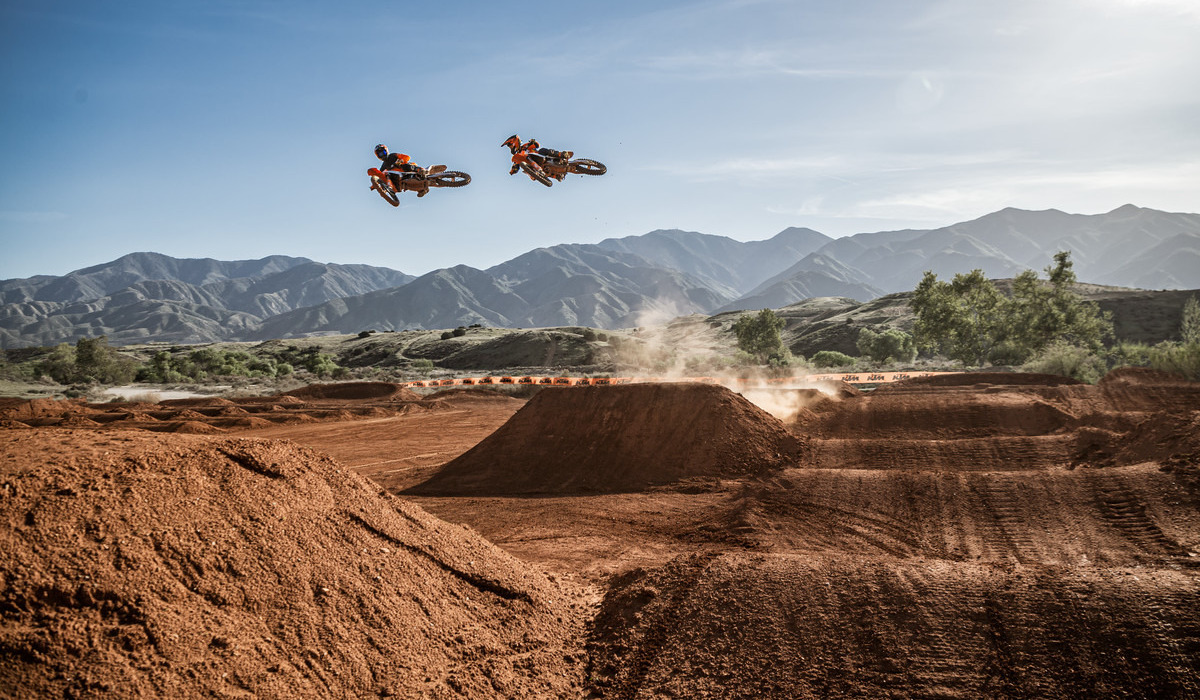 How do you better dominance?
Like any champion racer we search every single corner for gains, for performance and for perfection The 2023 KTM SXs will reshape the market as well as riders' expectations. We haven't changed our approach for outright excellence, so that means we've changed quite a bit for 2023.
We still have 12 models that scale from electric learner bikes through to two-stroke minicycles (50, 65, 85cc) to larger two-stroke thrillers at 125, 250 and 300cc capacity. The KTM SX-Fs consist of 250, 350 and 450 four-strokes. A potential AMA 450SX winner or MXGP world champion can grow in orange from his or her first metres on the dirt right up until those last few corners as a winner at the very highest level. So, we have the bikes but why jump into the family? Why embrace the KTM DNA? Well, the KTM SXs are the most powerful in each class and have the finest components. They are the most race focused.
Racing enables us to empower you. The 2023 KTM SXs are sleeker, slimmer, more controllable and the most desirable. They our best expression of the ultimate motocross race so we're ready for when you want to get really serious.
Behind the gate: Preparation and equipment
We are market leaders with the use of cutting-edge ideas and technology throughout our motorcycle portfolio and the 2023 KTM SXs are primed. Partnerships with companies such as KEIHIN, PANKL, and Brembo means performance possibilities have expanded. The 2023 KTM SX range will count on two maps (one standard, softer and linear power and another for a more aggressive response), launch control*, traction control*, a roll-over sensor for large crashes, an hourmeter as standard with electronic fuel injection status and a fuel indicator through the Keihin engine management system. Other preparatory steps come through the tool-free adjustments now possible with the latest spec WP Suspension engineering. New 7.2 litre polythene fuel tanks can be filled (feeding into the protected one-piece fuel pump and filter) and a quick spin of the Excel alloy wheel rims is quicker and easier to check thanks to the fresh spoke nipple design. You're READY TO RACE.
Gate-drop and surging into action
Fired up with the electric starter (on all models) KTM SXs hammer along the straight and into the corners and jumps with aplomb. Our engine packages are more compact, more durable, more serviceable and offer the best power-to-weight ratio across the board.
New cylinder heads translates into performance gains but rearwards rotation of the engines by 2 degrees has given better centralization and a more profound effect for the chassis concept. Brand new 5-speed PANKL Racing Systems transmissions with an additional sensor for the four-strokes mean that up-shifts (from 2nd gear onwards) are slicker thanks to the Quickshifter function. The Quickshifter can be disabled with a switch on the handlebar but a weight-optimised shift shaft in the transmission itself means that the operating force of the change is now less and, therefore, easier. A Brembo hydraulic clutch ensures top-of-the-range dependability whatever the conditions.
With our 2-strokes, less carbs = more muscle. We've graced our KTM SXs with a new electronic fuel injection to ensure simplicity, enjoyment and uniqueness. Therefore, the SXs get a new 39mm throttle body with injectors positioned for pinpoint response. A 'remix to the premix' counts on a TPS-sensor for better behavior while idle and for the fuel-air mixture (not forgetting the cold start mechanism which is the same as the KTM SX-Fs). The effect is more: more power, more response, more assurance, more ease, more fun.
Finding the flow then attack the track
The demands of competition, fitness and the track set the tone for any moto. It's in the depths of this hard, physical stage of a race when the connection and feeling with any motorcycle can make the difference and fully harness the excitement and fulfilment. We've taken our chassis and frame design principles back to the core and have sought better dynamics, stability and strength. Longitudinal rigidity is a key phrase and with accentuated rider feeling coming through an anti-squat philosophy. This has been achieved by a new frame and mounts, subframe, swingarm, engine repositioning, ergonomics and WP Suspension tech.
The frame is hydro-formed, laser-cut and robot-welded. the wall thickness has been optimised to achieve improved rigidity in specific high stress areas such as the steering head and all new shock mounts. The KTM SX two-strokes have new parallel frame mounts. The design is sportier with sights on extra agility; an example comes through the new inwardly moved footpegs for even greater clearance in ruts and for dropping the bike flat for scrubs. New footpegs are even larger in surface area, even if the die casting means they are lighter than before. Stiffness has been dialed with lighter die cast hollow swingarms (new casting processes allow for even more weight saving) and a new rear axle.
The WP Suspension XACT shock is shorter and lighter. The internal flow of liquids is more flush, reliable and resistant, and the shock's smaller dimensions lower the chances of pollutants and dirt intrusion. The shape permits higher ground clearance with the linkage and advanced damping means better traction as the bike swallows the bumps with the new geometry setting. Entering corners or landing jumps, any KTM SX can take full profit from WP XACT forks with AER air technology featuring a new hydrostop for more effective performance and more bottoming resistance.
The 2023 KTM SXs are narrower and honed, but we have managed to increase contact area and surfaces to allow even more input into the handling of the bike. The flat orange seat – offering excellent grip and greater control – and the reworked front fender are other identifiable marks. The mud flaps of the fender prevents excessive dirt being flicked up towards the rider and the radiator in particularly wet conditions.
Finishing the moto strong
You've gone faster and longer than ever, but any Pro racer will tell you that the last two or three laps of any moto are key. This is where the versatility and usability of the new KTM SXs are further fortes. The rate of energy absorption is high thanks to the forgiving chassis and other components such as the fresh CNC milled triple clamps with optimised bar mounts and wider grip surface area. This leads to less handlebar twist. The whole unit is protected by a new number plate design. The subframe is now a finely engineered hybrid thanks to polyamide reinforced aluminum, applying strength into the lower part of the frame and extending flexibility for control and comfort in upper sections. The subframe has been designed with advanced finite element analysis and weighs less than two kilos.
Count on the last centimetres of traction and performance provided by the Dunlop GEOMAX MX33 tires; chosen for the 2023 KTM SX line-up after a careful testing and selection process.
Once across the finish line it will be time to recover, to reset and to think about the next outing. At this point riders will consider mods and this is when accompanying KTM PowerParts and KTM PowerWear will have you covered. Riding gear, protection, extra parts and much more can be found and have been especially crafted for our 2023 KTM SX incarnations.
Welcome to the future. But don't just take our word for it, watch out for a very special and exclusive video series on KTM digital channels to further breakdown the 2023 KTM SX range.
2023 KTM SX Collection highlights
// New, innovative and highly advanced generation of KTM SX motorcycles with unrivalled feeling and performance across 12 different models and the most complete collection from kids to Pro ass-kickers
// Brand new anti squat frame concept with redesigned and revitalized chassis setting and architecture. Even more centralisation
// Ergonomics bringing the rider in closer contact with the bike to help the stability, agility and feel
// Lighter, more powerful engines and distinctive fuel injected two-stroke motors
// Greater usability to make the motocross experience easier and more intuitive than ever before
2023 ENDURO RANGE IS UP TO ANY OFFROAD CHALLENGE
ENDURO RIDERS AT EVERY LEVEL CAN ACHIEVE THEIR BEST-EVER RESULTS WITH CLASS-LEADING AND INNOVATIVE RACE-DEVELOPED MACHINERY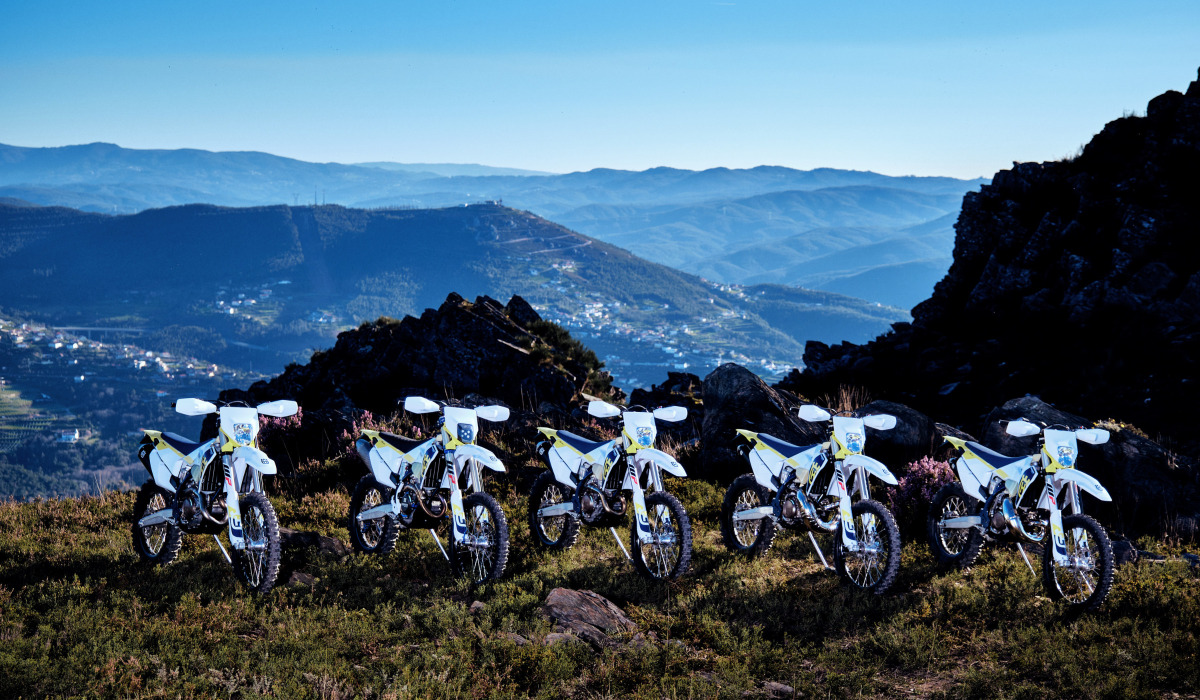 Husqvarna Motorcycles is pleased to announce its 2023 TE and FE enduro line-up, a range of seven 2-stroke and 4-stroke machines which will take enduro riders of all levels of experience and skill to their best possible results. Dynamic performance and advanced ergonomics combine in the 2023 enduro range to deliver unrivalled power and handling to the competitive enduro rider.
Riders of every level will find a machine in a line-up unequalled in its sector for technical advancement, and race-winning reliability and durability. The model range consists of the TE 150, TE 250 and TE 300 2-strokes and the FE 250, FE 350, FE 450 and FE 501 4-strokes.
A distinctive bodywork demonstrates Husqvarna Motorcycles' progressive approach to Swedish-inspired offroad motorcycle design. Dark blue graphics with electric yellow accents use the familiar colours in all-new combinations for 2023.
The ergonomics of the bodywork are specifically tailored to deliver comfort and control, with narrow contact points making it easy to shift between riding positions. Unique to Husqvarna Motorcycles, a carbon composite subframe weighs just over 1 kg and has been engineered for specific rigidity using computational dynamics, and also contributes to outstanding handling and rider comfort.
Offering unsurpassed damping capability and comfort, compliant WP suspension makes light of the severest bumps, giving all TE and FE models optimal handling and control. The XPLOR 48 mm front fork has a split damping function and easy access preload adjusters. At the rear, a progressive linkage, 300 mm of travel and pressure balance in the shock absorb every surface change.
Predictable control makes for confident riders, able to take on any terrain. BRAKTEC hydraulic braking and clutch systems are used across the enduro range for their consistent operation, no matter how tough the going gets. The clutch delivers even wear and reliable, modulated operation and the braking system is tailored for enduro riding, with abundant stopping power and precise feedback.
In winning yet another FIM SuperEnduro World Championship title, Billy Bolt has again demonstrated the relentlessly effective technical package of his FE 350. A victory which furthers the reputation of Husqvarna Motorcycles, and once more confirms the whole enduro line-up as a competition benchmark.
2023 Technical Highlights
All-new colours, trim and distinctive dark blue graphics with electric yellow accents contribute to a unique look and stylishly adorn the Swedish inspired design, and complement the new metallic blue of the frame
A two-piece carbon fibre composite subframe weighs just over 1 kg and is a major contributor to outstanding handling and rider comfort
WP XPLOR front forks and WP XACT monoshock for consistent damping and exceptional handling
Two switchable Electronic Fuel Injection (EFI) maps on 4-stroke models plus traction control. Two selectable ignition curves and automatic fuelling adjustment on 2-strokes
Advanced linkage progression, shared with the Husqvarna motocross range, for optimum control and comfort
Pankl Racing Systems 6-speed gearbox with enduro specific ratios for perfect command in all conditions
Unparalleled attention to detail and high-quality components for a pure riding experience
The enduro range is fitted with class-leading Michelin Enduro tyres for superior traction; tyres that are race-proven by the Husqvarna Factory Racing team
Enduro riders will be kitted out for every event with the 2023 Husqvarna Motorcycles Functional Offroad Apparel Collection, featuring the Gotland Jacket, Pants, Shirt and Waterproof Gear, expressly designed for enduro competition. There is also a wide selection of Husqvarna Motorcycles Technical Accessories performance and suspension parts, machine protectors and workshop equipment to customise and maintain all TE and FE models.
NEW GASGAS SM 700 AND ES 700

INTRODUCING A NEW FLAVOR TO THE STREETS WITH OUR VIBRANT NEW SINGLE-CYLINDER SUPERMOTO AND ENDURO BIKES
Say hello to the two new red-hot singles in town – the GASGAS SM 700 and the GASGAS ES 700! Introducing the playful and vibrant GASGAS character to the street, these high-performance siblings deliver a distinct, upright, and inviting approach to riding. With powerful single-cylinder motors, razor-sharp handling, and the latest rider aids, enjoying city streets and offroad adventures has never been so much fun!
GASGAS hits the streets with SM 700 and ES 700!
Confident and inviting offroad-inspired centered riding position
GET ON THE GAS with playful, big-bore, single-cylinder bikes
Just like with our offroad bikes, the introduction of the GASGAS SM 700 and the GASGAS ES 700 is all about bringing something a little different to the party, bringing bikes that put a smile on people's faces. With distinct, reliable, high-performance bikes that reflect our Spanish heritage and fun-loving personality, we welcome every kind of rider and encourage them to GET ON THE GAS!
Re-establishing ourselves as a leading force in offroad racing and riding during the last two years, in successfully introducing a complete offroad line-up we quickly went from being the new kids to picking up race wins and championship trophies. But it's not just the offroad world we're interested in. Just like we did in the dirt, we're again looking to re-establish ourselves, and have some serious fun on the street!
GASGAS street bikes benefit from an agile, high-performance technical base. Designed to deliver the very best handling, and constructed at the lowest possible weight, the chromium-molybdenum steel trellis frame ensures razor-sharp cornering and straight-line stability. Further enhancing the riding experience of these super singles, a die-cast aluminum swingarm offers just the right amount of flex to transfer the unrestricted power to the ground, while a 13.5 liter fuel tank integrated into the polyamide subframe keeps the center of gravity as low as possible. For total control and stability when drifting into the corners, the latest Bosch ABS systems and a PASC slipper clutch balances the bike perfectly for precise turning.
The beating heart of these bikes is undoubtedly the motors! Producing a peak 74 horsepower at 8,000 rpm and pumping out serious torque numbers, you can ride these versatile bikes your own way. Beneath the fresh red livery, which aligns these street models perfectly with our EC and MC line-up, there's plenty of hidden magic going on. State-of-the-art electronics always ensure precise throttle response with power on tap, while smooth shifting up and down the six-speed gearbox is assured thanks to the integrated quickshifter.
Complete with the latest EURO 5 compliant exhaust systems, advanced Ride Modes, and assembled with quality components throughout, the GASGAS SM 700 and ES 700 deliver pure riding pleasure, both on and off the road.
SM 700
Bringing single-cylinder fun to any daily commute, no matter where you're headed the GASGAS SM 700 is a big-bore Supermoto that guarantees riders will always arrive with a smile on their face! With punchy power that's perfect for lively urban street riding, the SM 700 delivers class-leading performance, dynamic on-road handling, advanced electronics, together with a vibrant GASGAS look. Getting from A to B has never been easier, more enjoyable, or more exhilarating!
CHECK OUT OUR MODEL PAGES FOR MORE INFORMATION
ES 700
Delivering versatility to the max to ensure every ride is an enjoyable one, on the ES 700 all riders can explore remote trails, enjoy mixed-surface adventures, or simply add a little more fun to their daily commute. A playful, do-it-all dual-sport performer, the GASGAS ES 700 mixes high-quality, street-legal performance with proven offroad capabilities to proudly bring the playful and vibrant GASGAS attitude to the street. And with its 13.5 liter fuel tank, comfortable riding position, high-spec equipment, and proven 74hp single-cylinder motor, there's nowhere the ES 700 won't go. How far you take it is up to you!
CHECK OUT OUR MODEL PAGES FOR MORE INFORMATION

To ensure riders get the very best out of the SM 700 and ES 700, GASGAS has a complete range of Technical Accessories and Apparel. Making customization and personalization super easy, GASGAS has all the technical parts needed to ramp up the protection, dial in the style, and unlock even more big-bore performance. With the Supermoto Suit and Supermoto Gloves, riders can ride hard knowing they're extremely well protected.
ALL-NEW GASGAS CONFIGURATOR!
Did you know you can build your dream GASGAS ES 700 or SM 700? Simply head over to the GasGas website, and using our clever configurator, add the parts and accessories you love to make the GASGAS ES 700 or SM 700 your own! Build it your way with the simple click of a few buttons. It's super effective and incredibly easy to use, so what are you waiting for? Get started!
GASGAS 2023 MOTOCROSS MODELS BREAK COVER

10 BIKE MX LINE-UP DELIVERS PROVEN ON TRACK PERFORMANCE AND A VIBRANT NEW LOOK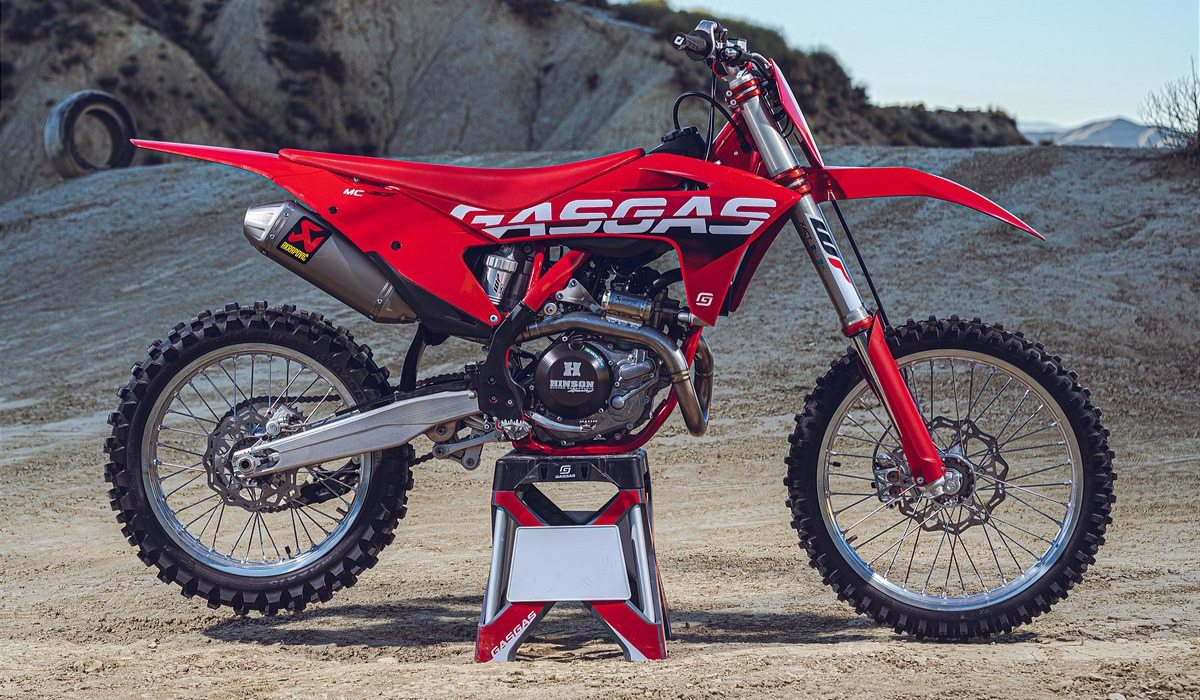 GASGAS is coming in hot for 2023 with a vibrant new look! Receiving a very loud, and very red, makeover, the entire GASGAS motocross range mixes serious on track performance with a fresh new look for continued weekend fun! Super capable in the hands of weekend warriors, high-level racers, and everyone in between, each of our 2023 models remains incredibly easy to ride, allowing all riders to push their limits and have some serious fun! Complete with the latest technology, WP suspension, and class-leading components, there's never been a better time to get on the gas with one of our proven motocross bikes. Check out the GASGAS MX models this March with the mini bikes arriving shortly after in May!
Fresh new look for GASGAS' awesome motocross range
10 bike line-up caters for riders of all ages and abilities
New models arriving from March at your local GASGAS dealer
GASGAS fully understands how important it is to ensure that every day be a good day when you're at the motocross track! Which is precisely why all our bikes are lightweight and compact, designed to deliver nimble handling and outstanding performance, as well as being loaded with quality, reliably components. But the really cool thing about each of our MX bikes is that they're super easy to ride and simple to maintain, allowing riders to focus on the fun part of owning a dirt bike – riding and racing it!
Catering for riders of all speeds and abilities, all five of our motocross models boast usable power that's perfect for beginners yet equally more than enough to ensure serious racers can hunt down trophies and titles. With two lightweight and super-fun 2-strokes to choose from – the MC 125 and MC 250 – and three awesome 4-stroke models – the MC 250F, MC 350F, and MC 450F – there really is something for everyone in our awesome full-size motocross range.
For the next generation of motocross thrill seekers, we've no less than five awesome mini bikes to suit kids of all ages and abilities. For the smallest and most courageous youngsters, there's our all-electric MC-E 5, and our petrol-powered, rev 'n' go MC 50 right alongside it. Then as children progress and grow, they can step up to the six-speed MC 65 before jumping up to our MC 85, which is available in both small and big wheel versions for unrivalled motocross fun! Check them out at your local GASGAS dealer from May.
So, to get on the gas for 2023, there's never been a better time to head down to your local GASGAS dealer and explore our complete range of dirt bikes. From our super-fun, high-revving MC 125 2-stroke through to the awesome, fire breathing MC 450F 4-stroke, each model boasts a vibrant new look that's uniquely GASGAS!
If you're looking to personalize any of our motocross models, we also offer a full range of GASGAS Technical Accessories and Apparel. For those looking to protect, improve, and add a little unique style to their dirt bike, our extensive Technical Accessories catalogue includes just about everything any rider might need, from upgraded brake and exhaust systems, through to triple clamps and wheels. We're also very proud of our GASGAS apparel, which delivers protection and comfort in style, and features clothing designed specifically for motocross riding with head-to-toe solutions for both kids and adults!